Product Description
Elevate Your Outdoor Playground with the Animatronic Pentaceratops Model
Introduction
At Gengu Dinosaurs Technology, we strive to enhance outdoor playground experiences by bringing the wonders of the prehistoric world to life. We understand the significance of captivating attractions that ignite the imagination of children and foster a sense of awe and adventure. In this article, we present the extraordinary Animatronic Pentaceratops Model, designed to elevate your outdoor playground to new heights and provide a truly unforgettable experience.
Unveiling the Animatronic Pentaceratops Model
The Animatronic Pentaceratops Model offered by Gengu is an extraordinary addition to any outdoor playground setting. Crafted with meticulous attention to detail, this animatronic replica immerses children in the world of dinosaurs, sparking their curiosity and igniting their imagination.
Lifelike Movements and Behaviors
Our Animatronic Pentaceratops Model boasts remarkably lifelike movements, faithfully mimicking the actions and behaviors of the ancient Pentaceratops species. From its gentle swaying to the intricate mobility of its limbs, every motion is intricately programmed to create an immersive experience that transports children back to the prehistoric era.
Realistic Visuals and Textures
The attention to detail in the design of our Animatronic Pentaceratops Model is unparalleled. The vibrant and realistic colors, along with the meticulously textured skin, create an authentic and visually striking representation of the Pentaceratops. This lifelike appearance further enhances the immersive experience, capturing the imagination of children and inspiring their sense of wonder.
Unmatched Durability and Safety
At Gengu Dinosaurs Technology, we prioritize safety and durability without compromising on the quality of our products. The Animatronic Pentaceratops Model is built to withstand the rigors of outdoor playground environments while ensuring the utmost safety for children.
Weather-resistant Construction
The Pentaceratops model is constructed using weather-resistant materials, making it suitable for year-round display in outdoor playgrounds. With its ability to withstand various weather conditions, including rain, sunlight, and temperature fluctuations, this model ensures long-lasting enjoyment for children and minimal maintenance requirements for playground operators.
Child-friendly Design
Safety is of paramount importance, particularly when it comes to children's play equipment. The Animatronic Pentaceratops Model adheres to stringent safety standards, incorporating features such as rounded edges and non-toxic materials. Its sturdy construction and carefully designed mechanisms ensure a safe and enjoyable experience for children of all ages.
Benefits for Your Outdoor Playground
Incorporating the Animatronic Pentaceratops Model into your outdoor playground offers numerous benefits that contribute to an exceptional play environment. Let's explore some of these advantages:
Stimulating Imaginative Play
The presence of the Animatronic Pentaceratops Model sparks children's imaginations, inviting them into a world of adventure and discovery. By engaging in imaginative play, children develop their cognitive and social skills while exploring the wonders of the prehistoric era.
Educational Opportunities
Beyond the realm of play, the Animatronic Pentaceratops Model serves as a powerful educational tool. Children have the opportunity to learn about dinosaurs, their characteristics, and the Pentaceratops species specifically. This fusion of entertainment and education creates a dynamic and enriching experience that fosters curiosity and knowledge acquisition.
Attracting and Retaining Visitors
With its captivating presence, the Animatronic Pentaceratops Model acts as a magnet for children and families seeking an unforgettable outdoor playground experience. The unique and immersive nature of this attraction helps attract new visitors and encourages repeat visits, making your playground a go-to destination in the area.
Conclusion
Elevate your outdoor playground to new levels of excitement and wonder with the Animatronic Pentaceratops Model from Gengu Dinosaurs Technology. With its lifelike movements, realistic visuals, and unwavering commitment to safety, this attraction promises an unforgettable adventure for children. Embrace the opportunity to create a playground that sparks imagination, fosters learning, and delights visitors of all ages. Contact us today to discover how the Animatronic Pentaceratops Model can transform your outdoor playground into a prehistoric paradise.
Sound:Dinosaur roaring and breathing sounds.
Movements: 1. Mouth open and close synchronize with sound. 2. Eyes blink. 3. Neck up and down-left to right. 4. Head up and down-left to right.5. Forelimbs move. 6. Chest raises / falls to mimic breathing. 7. Tail sway. 8. Front body up and down-left to right. 9. Water spray.10. Smoke spray. 11. Wings flap. 12. Tongue moves in and out.
Control Mode: Infrared Sensor, Remote control, Automatic, Token coin operated, Button, Touch sensing, Customized etc.
Certificate:CE,ISO,BV,TUV,SGS
Usage:Attraction and promotion. (amusement park, theme park, museum, playground, city plaza, shopping mall and other indoor/outdoor venues.)
Power:110/220V, AC, 200-800W.
Plug:Euro plug,British Standard/SAA/C-UL,depends on standard of your country.
---
MAIN MATERIALS
All material and accessory suppliers have been checked by our purchasing department. They all have the necessary corresponding certificates, such as CE, UL, ISO9001:2008, and reached excellent environmental protecting standards.
Galvanized Steel
Flange
High Density Foam
Gear Reducer
Brush Motor
Brushless Motor
Pigment
Diluent
Silicone Rubber
---
WORKFLOWS
1. Control box: Independently developed fourth-generation control box.
2. Mechanical Frame: Stainless steel and brushless motors have been used to make dinosaurs for many years. Each dinosaur's mechanical frame will be continuously and operationally tested for a minimum of 24 hours before the modelling process begins.
3. Modelling: High density foam ensures the model looks and feels of the highest quality.
4. Carving: Professional carving masters have more than 10 years of experience. They create the perfect dinosaur body proportions absolutely based on dinosaur skeletons and scientific data. Show your visitors what the Triassic, Jurassic and Cretaceous periods really looked like!
5. Painting: Painting master can paint dinosaurs according to customer's requirement. Please provide any design
6. Final Testing: Each dinosaur will also be continuous operated testing one day before shipping.
7. In Stock: We keep more than 30 sets dinosaurs in stock for choice.
8. Packing : Bubble bags protect dinosaurs from damaging. PP film fix the bubble bags. Each dinosaur will be packed carefully and focus on protecting eyes and mouth. Control box will be put in aviation.
9.Shipping: Chongqing, Shenzhen, Shanghai, Qingdao, Guangzhou,etc. We accept land, air, sea transport and international multimodal transport.
10. Clearance: We are the first and most professional animatronic dinosaur export factory. We have experience of Europe, South Africa, East and South Asia,Australia, North America, South America, and so on. Main countries include the United States, the United Kingdom, Canada, Brazil, Argentina, Japan,Philippines, Malaysia, Australia, Russia, Thailand, the UAE, Poland, Spain, Germany, Croatia, etc.
11.On-site Installation: We will send engineers to customer's place to install dinosaurs.
---
ACCESSORIES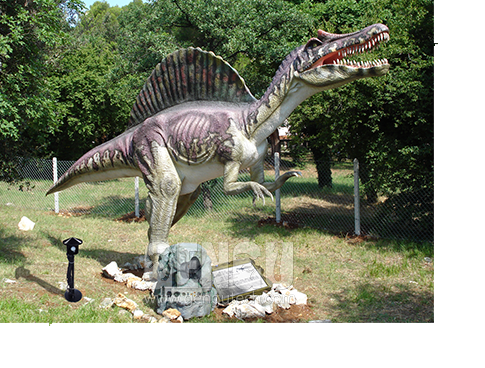 Fiberglass artificial rock
Different shapes according to requirement
Speakers
Active speakers or passive speakers
Quick facts
Tempered glass and stainless steel
Remote control
Infrared sensor
Control box
* The above photos display the main accessories. In addition to the above, we can provide supplementary items to really bring your attraction to life, such as:- Game coins - Coin boxes - Artificial trees / grasses - Fences - LED lights - Background painting - And much more!
---
Design
Mechanical design

We make a mechanical design for every dinosaur, providing them with a good frame. This makes sure that their air flows and other moving parts can operate without friction, massively improving the service life!

Dino posture & color Design

We design dinosaur postures, detailed features and colors before production begins. This ensures you get exactly what you want.

Graphic Design

You provide us photos and plans, we get back to you an entire dinosaur exhibition!

Exhibition Details Design

Exquisite details design show to customer the final exhibition scene. We also provide plan design, dino facts design, advertisement design, etc.
Zigong Gengu Dinosaurs Science And Technology Co.,Ltd.
We Bring Dinosaurs to Life