Product Description
Realistic Robot Hypacrosaurus Dinosaur Model for Sale: Unleash the Wonders of the Prehistoric Era
Introduction
Welcome to our comprehensive guide on the realistic robot Hypacrosaurus dinosaur model for sale. At Gengu Dinosaurs Technology, we specialize in providing top-quality animatronic dinosaurs that bring the wonders of the prehistoric era to life. In this article, we will delve into the unique features and benefits of our realistic robot Hypacrosaurus model, offering an in-depth exploration of why it stands out as an exceptional choice for dinosaur enthusiasts and educational institutions alike.
Unleashing the Prehistoric World
Lifelike Realism
Our realistic robot Hypacrosaurus dinosaur model boasts an unparalleled level of lifelike realism. Through meticulous attention to detail and cutting-edge animatronics technology, we have crafted a truly remarkable replica of the Hypacrosaurus. Every aspect, from its textured skin to the intricacies of its movements, has been meticulously designed to provide an authentic and awe-inspiring experience.
Interactive and Educational
Beyond its visual appeal, the realistic robot Hypacrosaurus model offers interactive and educational features that captivate both children and adults. Equipped with a range of pre-programmed movements and sounds, the dinosaur model creates an immersive environment, allowing viewers to step back in time and witness the marvels of the prehistoric era firsthand. This interactive experience fosters curiosity, encourages learning, and sparks a deep appreciation for Earth's history.
The Benefits of the Realistic Robot Hypacrosaurus Model
Educational Significance
The realistic robot Hypacrosaurus model presents a unique opportunity to educate and engage audiences of all ages. Whether it's a museum, science center, or educational institution, this animatronic marvel serves as an invaluable tool for teaching about paleontology, evolution, and the natural world. Its realistic appearance and interactive features offer an immersive learning experience that leaves a lasting impact on visitors.
Inspiring Imagination and Creativity
The presence of the realistic robot Hypacrosaurus model ignites the imagination and creativity of individuals, especially children. As they observe the dinosaur's lifelike movements and roaring sounds, they are transported to a world where dinosaurs roamed the Earth. This immersive experience fosters storytelling, role-playing, and imaginative play, enabling children to create their narratives and engage in memorable adventures.
Promoting Scientific Curiosity
The realistic robot Hypacrosaurus model serves as a catalyst for scientific curiosity and inquiry. Its lifelike features pique the interest of viewers, prompting questions and discussions about the characteristics, behavior, and habitats of dinosaurs. This curiosity-driven exploration encourages further research and deepens understanding in the fields of paleontology, biology, and Earth sciences.
Installation and Customization
Seamless Integration
At Gengu, we understand the importance of seamless integration when adding the realistic robot Hypacrosaurus model to your space. Our team of experts works closely with clients to ensure a smooth installation process, considering the specific requirements and dimensions of the designated area. This attention to detail guarantees that the model seamlessly blends with the surroundings, enhancing the overall visual impact.
Customization Options
We offer customization options to meet the unique needs and preferences of our clients. Whether you require specific movements, additional features, or customized branding, our team is dedicated to bringing your vision to life. We collaborate closely with clients to ensure that the realistic robot Hypacrosaurus model aligns perfectly with your objectives, creating a truly personalized and captivating experience.
Conclusion
In conclusion, the realistic robot Hypacrosaurus dinosaur model for sale from Gengu represents a remarkable opportunity to unleash the wonders of the prehistoric era. With its lifelike realism, interactive features, and numerous educational benefits, this model stands out as a captivating addition to museums, science centers, and educational institutions.
By providing an immersive and educational experience, it inspires imagination, sparks scientific curiosity, and fosters a deep appreciation for Earth's history. Discover the exceptional quality and endless possibilities of the realistic robot Hypacrosaurus model by contacting us today. Let us bring the marvels of the prehistoric world to your space and create an unforgettable experience for all who encounter it.
Sound:Dinosaur roaring and breathing sounds.
Movements: 1. Mouth open and close synchronize with sound. 2. Eyes blink. 3. Neck up and down-left to right. 4. Head up and down-left to right.5. Forelimbs move. 6. Chest raises / falls to mimic breathing. 7. Tail sway. 8. Front body up and down-left to right. 9. Water spray.10. Smoke spray. 11. Wings flap. 12. Tongue moves in and out.
Control Mode: Infrared Sensor, Remote control, Automatic, Token coin operated, Button, Touch sensing, Customized etc.
Certificate:CE,ISO,BV,TUV,SGS
Usage:Attraction and promotion. (amusement park, theme park, museum, playground, city plaza, shopping mall and other indoor/outdoor venues.)
Power:110/220V, AC, 200-800W.
Plug:Euro plug,British Standard/SAA/C-UL,depends on standard of your country.
---
MAIN MATERIALS
All material and accessory suppliers have been checked by our purchasing department. They all have the necessary corresponding certificates, such as CE, UL, ISO9001:2008, and reached excellent environmental protecting standards.
Galvanized Steel
Flange
High Density Foam
Gear Reducer
Brush Motor
Brushless Motor
Pigment
Diluent
Silicone Rubber
---
WORKFLOWS
1. Control box: Independently developed fourth-generation control box.
2. Mechanical Frame: Stainless steel and brushless motors have been used to make dinosaurs for many years. Each dinosaur's mechanical frame will be continuously and operationally tested for a minimum of 24 hours before the modelling process begins.
3. Modelling: High density foam ensures the model looks and feels of the highest quality.
4. Carving: Professional carving masters have more than 10 years of experience. They create the perfect dinosaur body proportions absolutely based on dinosaur skeletons and scientific data. Show your visitors what the Triassic, Jurassic and Cretaceous periods really looked like!
5. Painting: Painting master can paint dinosaurs according to customer's requirement. Please provide any design
6. Final Testing: Each dinosaur will also be continuous operated testing one day before shipping.
7. In Stock: We keep more than 30 sets dinosaurs in stock for choice.
8. Packing : Bubble bags protect dinosaurs from damaging. PP film fix the bubble bags. Each dinosaur will be packed carefully and focus on protecting eyes and mouth. Control box will be put in aviation.
9.Shipping: Chongqing, Shenzhen, Shanghai, Qingdao, Guangzhou,etc. We accept land, air, sea transport and international multimodal transport.
10. Clearance: We are the first and most professional animatronic dinosaur export factory. We have experience of Europe, South Africa, East and South Asia,Australia, North America, South America, and so on. Main countries include the United States, the United Kingdom, Canada, Brazil, Argentina, Japan,Philippines, Malaysia, Australia, Russia, Thailand, the UAE, Poland, Spain, Germany, Croatia, etc.
11.On-site Installation: We will send engineers to customer's place to install dinosaurs.
---
ACCESSORIES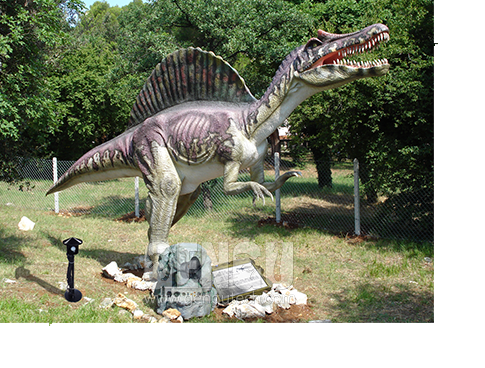 Fiberglass artificial rock
Different shapes according to requirement
Speakers
Active speakers or passive speakers
Quick facts
Tempered glass and stainless steel
Remote control
Infrared sensor
Control box
* The above photos display the main accessories. In addition to the above, we can provide supplementary items to really bring your attraction to life, such as:- Game coins - Coin boxes - Artificial trees / grasses - Fences - LED lights - Background painting - And much more!
---
Design
Mechanical design

We make a mechanical design for every dinosaur, providing them with a good frame. This makes sure that their air flows and other moving parts can operate without friction, massively improving the service life!

Dino posture & color Design

We design dinosaur postures, detailed features and colors before production begins. This ensures you get exactly what you want.

Graphic Design

You provide us photos and plans, we get back to you an entire dinosaur exhibition!

Exhibition Details Design

Exquisite details design show to customer the final exhibition scene. We also provide plan design, dino facts design, advertisement design, etc.
Zigong Gengu Dinosaurs Science And Technology Co.,Ltd.
We Bring Dinosaurs to Life